Grandparents Day - click to see more
Grandparents Day - click to see more
24 May 2022 (by felsted)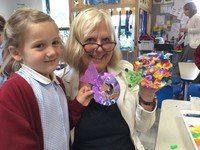 Dear Mrs Collins and all staff,
I want to thank you for the delightful morning I spent as a grandparent in your school last week.
Everyone was so friendly and welcoming, and I must mention in particular the two girls who showed us round, they were well formed, enthusiastic and clearly proud of their school.
It was a very special morning and a privilege to have a glimpse into the school life of my grandchildren and I will now be able to picture them there there when they talk about school.
Thankyou very much for inviting me, I wouldn't have missed it for the world.
Kind regards,
Lesley Hinks