Victorian Day - click to see more
Victorian Day - click to see more
26 November 2021 (by felsted)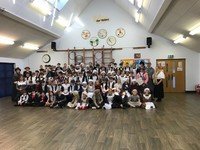 The children began the day with a lesson from a rather strict teacher who make them write on slates, repeat the same fact over and over, and told us what some of the punishments were for anyone who dared misbehave! She also charged 1 pence each for the privilege. We then moved to the domestic servant quarters where a wide variety of original household objects were available for the children to interact with, and they were challenged to work out what they would have been used for. Some of our young ladies had a narrow miss when they suggested the 'giant teacup' could be used to serve soup, porridge, or gruel. Their faces when its actual use was explained (it was a bed pan) was a picture.
They then learned about traditional jobs that Victorian children were forced to do, including sweeping chimneys and pulling carts through narrow, unsafe tunnels. The photos of the children between the benches are representations of the difficulty and danger they faced.
The day was rounded off with some traditional games, often played in the streets. If you want to save a bit of money this Christmas, ask about the laughing handkerchief - hours of fun with a glorified tissue!
As our guests left, they said they had loved their day with us, and that the behaviour and interaction from our pupils was exceptional.